By Sally Theobald from the ARISE Hub
What makes a human city? What can we learn from grass root activism? I attended an experience exchange on grassroots activism in Liverpool, Barcelona and Berlin at Tusk in Liverpool's happening and regenerated Baltic triangle. I went with my ARISE hub hat on, keen to learn about grass roots research, organising and action to build more human cities in Europe and potential synergies and cross-learning with efforts to improve informal settlements in growing cities in Africa and Asia.
Mercè Cortina-Oriol discussed activism in Barcelona and how neighbourhoods became spaces of social mobilisation.  In a context where tourism has dislocated many communities –  a high proportion of housing is now owned by international investors –  community members were able to develop a transversal connection and solidarity which united different struggles. Coalitions for action across housing, education, child care, transport and green spaces  "ignited spaces of solidarity". This also involved new forms of partnerships – activists and squatters built new connections with house buyers (not traditionally part of the struggle) which took them out of their comfort zone and enabled a reflection on limits and opportunities of different positionalities.
Dario Azzellini shared experiences from Berlin which he described as a leftist and rebellious city whose fortunes and experiences have been shaped through different political trajectories and the rise and fall of the Berlin wall. In recent years this hipster city has also seen house rents increase rapidly. Activists have worked strategically within the systems and political structures allowed in the governance structure of Berlin city state to promote change using petitions and referendums. They generated 175000 signatures in six months to trigger a referendum to contest the privatisation of water and power and were successful in renationalising both water and electricity. They also triggered and won a referendum to maintain a large green space in the heart of the city and to ensure rents can't be raised for the next five years. Again, impressive solidarity and action for change enshrined within the laws of Berlin city state.
Nina Edge  (below) an artist from the Welsh Streets in Liverpool discussed a 15 year journey residents have been on to reject whole site demolition in favour of repair (wherever possible) to deliver solid eco-friendly homes. She described the original community as stable and cohesive and discussed how different cultural forms develop dependent on the types of housing provided.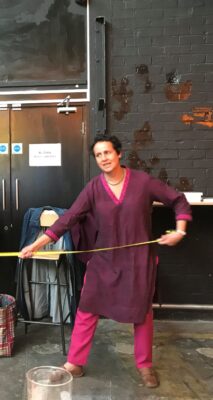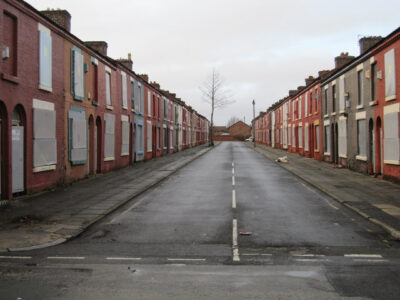 Following the threat of  demolition, she described how "housing is a touch paper for discontent" and how they worked to collect data on residents' wishes, needs and experiences and the amount of times they had resisted eviction. Ultimately the prices in the areas have increased and people that campaigned to keep their homes can't afford to come back.
Activism and solidarity continue through ongoing dialogue, (changing) narratives, stories, parties, monthly markets and  monthly play days (where Kelvin Grove is closed off to cars).
Ann O'Byrne, Labour and Co-operative Councillor for Warbeck Ward who hosted the panel, discussed social solidarity in Liverpool and how partnerships for well-being are  encapsulated by the Baltic Triangle, Granby St market and homebaked in Anfield. Liverpool is definitely an exciting and innovative city and one which at its very roots stands in solidarity with others. One of the market stall at Granby Street raises money each month in solidarity with Al-Sabeen hospital in Sana'a Yemen, where health workers have not been paid during four years of war.
Data for change and activism for human and responsive cities resonates with our ARISE hub which is working in partnership with researchers, advocates and federation of slum dwellers to improve accountability, health and well-being in informal settlements in growing cities in Sierra Leone, Kenya, India and Bangladesh. Our partners include Slum Dwellers International (SDI) a network of community-based organizations of the urban poor in 33 countries in Africa, Asia, and Latin America who also collect data and create change. Organized federations throughout the SDI network profile, map, and enumerate their settlements to gather invaluable planning data and catalyse community action and partnership. Their Know Your City website combines hard data and rich stories from urban poor communities in 224 cities across the Global South.
I look forward to more dialogue, reflection, reflexive practice and strategic partnerships across wide ranging contexts to build the software and hardware of human cities and spaces and places of solidarity.