We have been conducting participatory action research in three informal urban settlements (commonly known as 'slums') of Dhaka city since 2019. These three areas are Kalyanpur Porabosti, Nama Shyampur and Dhalpur slums. Nishika Samaddar Tumpa, Jeevan Ahmed Jumman, Bilal Hossain Jewel – who are co-researchers in the project – reflect on their experiences during COVID-19. The original blog was co-written in Bangla and has been translated into English by Afsana Yeamin, ARISE Bangladesh researcher.
From March 2021, the number of active cases and deaths due to COVID-19 have  risen across Bangladesh. To prevent the spread of Covid, the government imposed restrictions on March 29, banning the movement of people and vehicles across the country . Despite the lockdown somewhat curbing the high rate of infection transmission, the country's economy is severely affected. Most people living in slums in Dhaka city are poor and marginalized, and this second phase of lockdown, after the long-term lockdown of 2020, has hampered their earnings, throwing them into dire financial crisis.
ARISE Bangladesh continues its research work relentlessly even in the face of nationwide COVID-19 lockdown.  A total of six young people (two young men and women from each study site) have been involved in this research project as community researchers (co-researchers). During lockdown, community researchers not only confined themselves to research work, but each of them has also been actively involved in various COVID-19 awareness and response activities in their respective areas. Here, three co-researchers from three slums areas shared their experiences of involvement in COVID-19 response activities during the second wave of COVID-19 in Bangladesh.
Nama Shyampur
Tumpa, one of ARISE Bangladesh's co-researchers, is also a Community Organizer (CO) of BRAC Urban Development Program (UDP) in Nama Shyampur slum under ARISE Responsive Fund. In Nama Shyampur slum, with support from the ARISE Responsive Fund, BRAC UDP set up three hand wash stations and distributed soaps and detergents to enhance hygiene practice among slum dwellers during the second phase of lockdown, and nearly 1,000 households received masks.  Additionally, 30 children were given school bags and stationery by BRAC UDP during lockdown.
I am currently playing a dual role as an ARISE co-researcher and CO of BRAC UDP. I have actively participated in the community-based COVID-19 preventive actions during the second phase of lockdown in Shyampur. My involvement ranged from planning to implementing those activities. During this lockdown, I organized multiple community meetings every month for raising awareness about COVID-19 among people residing in my areas. In those meetings, I discussed the necessity of wearing masks and the benefits of hygiene practice and demonstrated proper handwashing procedures. Yet, the irony is that I face various unprecedented situations during fieldwork as a woman and a frontline worker.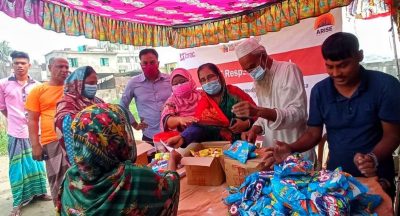 This year, during lockdown, while distributing masks among the people of our community, some people ranted at us. They said, "We are hungry; what is the point of wearing a mask?" During last year's lockdown, some people who received financial or food assistance were expecting the same support this year. When they saw we merely distributed masks, they didn't want to accept the free masks; instead, they started denying our advice and criticizing our activities. If we told them to wear masks, they replied, "Corona will not infect us." When we advised them to maintain physical distance or avoid social gatherings, they said, "Who will do my work if I don't go out? How will my family survive?" I handle such a situation based on the experiences of living and working in this slum. I first listened to their problems or complaints and then tried to explain the benefit of wearing masks or staying inside the home and how accepting free masks could save their money.
Dhalpur
Jumman is the male co-researcher in Dholpur slum and is also an active member of the local youth club of their slum – 'Youth Associates'.
Although people have been made aware of using masks since the first wave of COVID-19 in Bangladesh last March, many people in our slum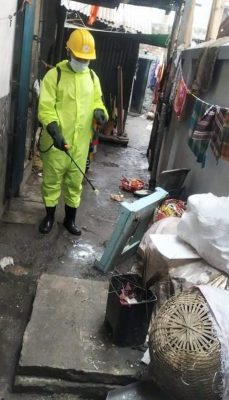 are now reluctant to use masks as the number of COVID cases slowly declined at the end of 2020. In addition, awareness programs and relief distributions in Dhalpur slum were minimal during the second phase of the COVID-19 lockdown. So, our club members took the initiative to talk with local people and encouraged them to wear masks to keep them and their families safe during lockdown. As a co-researcher of ARISE, I, myself, bought bleaching powder and sprayed disinfectants in the alleys to clean our area during this second lockdown. Not only me, but the other members of Youth Associate also got involved in such cleaning activities.
While most of the people of my community encouraged us for our social work, people who fail to understand the motive of our activities often throw negative comments. For example, when I was spraying disinfectants, one said, "What they do is show-off". Another person said, "They get money in return; therefore, they do such activities". To mitigate this challenge, when they made such comments, I explained to them the benefit of spraying disinfectants. In addition, when doing awareness campaigns in our area, we tried to invite local leaders. These approaches helped us in gaining the community's trust.
Kalyanpur Porabosti
Billal, a young social activist, is a co- researcher in Kollayanpur Porabosti. He and his local youth club, 'Protimancha', have been actively involved in COVID-19 awareness building in their slum from the beginning of the pandemic.
Though financial assistance or food support did not reach Dhalpur or Shyampur slums, the situation inside Kalyanpur Porabosti was somewhat exceptional. The World Food Program has been providing cash assistance of 3000 taka via Bkash (mobile banking) to about 1700 families with the help of BRAC UDP for the last ten months, and this support was continued during the second phase of lockdown. During lockdown, one of the political leaders of our area came at late night, at around 10 pm and distributed food (2.5 kg rice, 1 litre of oil, half a kg of onion, 1 kg of potato, 1 kg of sweet pumpkin and half a kilogram of lentils) to a few selected families. This assistance was negligible compared to the needs of the large number of people living in our slum, and the majority of the people receiving food assistance that day were known to that local leader and his acquaintances. A few days later, another organization came for relief distribution, but again, a handful of people in our area got it due to corruption and uneven distribution.
We, the two co-researchers and our club memebrs, have taken several initiatives to raise public awareness in our area during the second phase of lockdown, such as announcements via microphone, distributing posters or leaflets. The club members themselves raised funds for those activities. Apart from these, I took the initiative to organize a rally when IED (an NGO) approached us to create public awareness on Corona inside our slum. Moreover, during this lockdown, I visited various slum households and discussed the necessity of washing hands properly with soap to prevent COVID-19 infection, what to do when someone suffers from fever, cold and cough, and encouraged everyone to use masks going outside.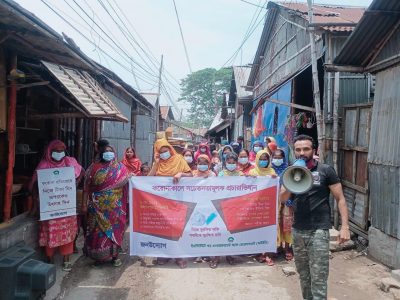 ARISE co-researchers, who belong to the marginalized groups living in the slums with financial and other constraints, are working as the change agents for their own communities. Linguist and philosopher Noam Chomsky has a famous saying, "Changes and progress very rarely are gifts from above. They come out of struggles from below". ARISE community researchers are great examples of the 'changes from below'.