In this blog, three community researchers from three study sites Esha Akhtar Labanya, Sweety Akhtar and Md. Tanvir Islam explained how the second wave of the COVID-19 pandemic and subsequent lockdown affected their community. Md. Imran Hossain Mithu an ARISE researcher has translated this blog post from the original Bangla.
ARISE Bangladesh partner BRAC James P Grant School of Public Health (JPGSPH) at BRAC University has been conducting participatory action research in three urban slums (Kalyanpur porabasti, Dholpur, and Nama Shyampur) in Dhaka city since 2019. One of the features of this research is the active participation of community members in research activities. We have been working as community researchers in this study.
The COVID-19 pandemic has taken different forms in Bangladesh over the past year. To deal with this situation, the government of Bangladesh has taken various preventive measures, including a nationwide shutdown/ lockdown at different phases. However, Bangladesh has been in the second wave of COVID-19 since mid-March 2021. Therefore, to address the second wave of COVID-19, the government again declared a nationwide lockdown from 7 April to 30 May 2021. As a result, poor and marginalized people residing in urban slums, especially in Dhaka city, again got stuck in the complex web of pandemic consequences.
COVID-19 prevention measures in urban informal settlements
Dhaka is the most densely populated city in Bangladesh, with thousands of poor and marginalized people living in informal settlements in different corners of the city. Most slum residents live in tiny, congested single-room houses. In addition, around 10 to 15 families, even sometimes 60 families, share one single toilet and use a communal bathing space and water collection point. Many families also use one single communal kitchen. All these factors serve as the main hindrance in following COVID-19 pandemic-related hygiene and preventive measures.
During the nationwide first lockdown in March – June 2020, many people tried to follow some preventive measures. Local community leaders, landlords, and other influential inhabitants took different community-level initiatives and containment measures to prevent infection transmission. The initiatives included a roster plan for using communal bathing spaces, water collection points and kitchen, etc. However, after announcing the second phase of lockdown in April 2021, no such initiatives have been observed across the slums. There are not even any initiatives from NGOs or the government to disseminate COVID-19 awareness information in the slums. Most people are unaware of the new COVID-19 variant and the importance of wearing masks, frequent handwashing, and maintaining physical distances.  As a result, they are reluctant to follow any preventive measures now. Like in pre-COVID times, people roam around the slums, gathering in tea stalls and local marketplaces without wearing masks. It is nearly impossible to maintain physical distancing in these overcrowded places.
Many people do not even believe in COVID-19's existence or believe that poor people do not get infected as they do physical labour. A rickshaw puller from Shyampur said, "Corona is a disease for rich people; the disease does not infect the poor people who are working hard all day long." These perceptions and attitudes are putting the slum dwellers at greater risk in the second wave of COVID-19 in Bangladesh.
Adhering to lockdown is a luxury
Long-term economic shocks as a result of COVID-19 have forced slum dwellers to go out searching for work. Most people living in slums are involved in poorly paid jobs such as ready-made garment (RMG) or factory workers and informal economic sectors (domestic workers, rickshaw pullers, van drivers, daily wage earners). The overall economy of Bangladesh was greatly affected by the first nationwide lockdown last March, and has not yet recovered, and the second lockdown has only intensified the adverse effects. Many slum dwellers lost their jobs, or their incomes have drastically decreased, and are battling to survive by spending their savings, selling their property, taking a loan, or borrowing money from relatives. The poor slum dwellers are immersed in the sea of starvation day by day. They are more afraid of their hungry stomach than they are of Corona. As their financial condition worsens, they ignore the lockdown, take risks of health, and look for a livelihood.
During the first lockdown in 2020, the government, different NGOs, and wealthy people provided various financial and food assistance to help poor slum dwellers. However, in the second phase of lockdown, neither the institutions nor individuals came forward to help. As a result, even though the poor may have somehow survived by getting help in the first phase of the lockdown, it has become difficult for them to survive without any help in the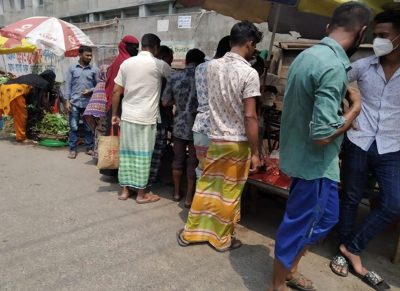 second lockdown. According to slum dwellers, where the poor slum population struggles to manage their daily foods, it is nothing but a luxury for them to follow lockdown. A resident of the Dholpur slum said, "We do not have rice in our house; what else can be happened by the corona!"
The 'new normal'?
Now people are talking about the adaptation of 'new normal' of the pandemic. But what is 'new normal' or even 'normal'? Is the 'new normal' the same for all? When we, people living in thousands of slums in Dhaka city, are struggling with daily survival with limited to no support from the government due to our unrecognized identity in the system, what is the 'new normal' for us? Is it staying at home during lockdown following government directives even if we starve to death? Or is it risking our lives by going out during lockdown for managing food and daily necessities?