The UKRI research budget is facing cuts that may affect our ability to continue with work within ARISE. Our team in Nairobi, Kenya from LVCT Health reflect on what potential reductions in the budget for this work means on the ground.
Before COVID-19 many people did not understand why we have to address the health and social needs of slum dwellers and how their poor health affects all of us. With the pandemic, it became a worry when it was thought that COVID-19 would spread rapidly due to poor ventilation and lack of water and sanitation in slums resulting in widespread deaths.
A COVID-19 response that included lockdowns and curfews highlighted the vulnerability and desperation of the situation in slums which have chronically lacked water, sanitation, ventilation and other amenities. Gender-based violence emerged as a real and present danger as reports of women and girls being raped on their way to the outside toilet at night or being abused in their houses by their newly unemployed partners. The government prioritized identification of the vulnerable but discovered that data on these groups was lacking.
ARISE – a UKRI funded research project – identified vulnerability and marginalization as a key challenge that would limit attainment of the Sustainable development goals (SDGs) even prior to COVID-19. Through ARISE in Kenya, partners had begun to identify the most vulnerable and marginalized within slums (even though most slum dwellers are disadvantaged, some are worse off than others). This information proved to be critical to the county government when the identification and registration of the vulnerable in slums by the government begun.
LVCT work in ARISE has involved identifying, following and working with the poor elderly, people with disabilities and child headed homes who emerged as extremely vulnerable to document their lives in visual form using photos (photovoice). The stories are aimed at showing the county government, NGOs and other community members their day to day lives, the struggles they go through ensuring that interventions involve them and are evidence based.
Story One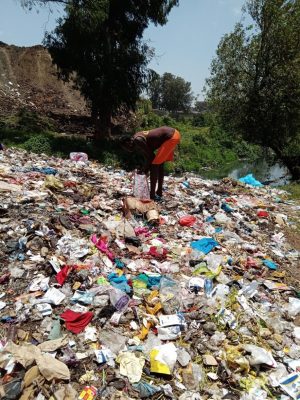 Alice is a 17 year old girl. Her mum is bedridden so she is the breadwinner for her mother and younger siblings. She is forced to work in the dumpsite and wash clothes in people's homes to buy food which affects her ability to go to school. As a young girl she is easily verbally abused or not paid when she goes to wash clothes in people's homes.
Story Two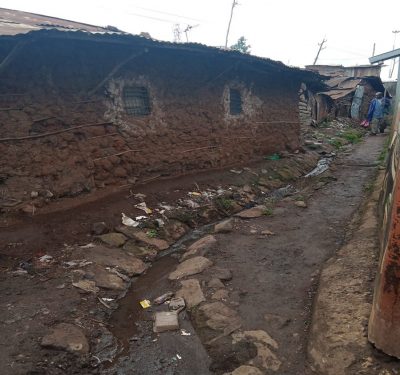 "I took a photo of that trench because of the blind and old people like myself because an old person cannot be able to jump across it. It is a danger to the old and it is problematic to me because I use this route often as I go to the shop. The sewerage that passes through there is also hazardous," Beatrice a 78 year old woman.
Making an impact
Our work in ARISE Kenya has been of great utility to the Kenyan Government (Nairobi Metropolitan Services) by providing empirical and systematic approaches for identifying marginalized and vulnerable people to benefit from government funded social assistance programmes.
In March 2021, the Nairobi Metropolitan Services (NMS) initiated a mapping of vulnerable households for purposes of enrolling these households into the Universal Health Coverage (UHC) programme. At the same time, the NMS needed to know and map people that are most vulnerable to economic shocks due to the COVID-19 pandemic. NMS urgently required concrete and empirical evidence/approaches for identifying people that would benefit from publicly funded social assistance interventions. Lessons from the community based participatory research approaches by ARISE Kenya were taken up by NMS decision-makers to tailor the kind of assistance provided to these vulnerable groups in the slums.
All this has only been possible due to funding from UKRI and our partnership with LSTM to carry out research that is relevant, high quality and timely. Cuts to development research mean that work that looks beyond the surface and ensures investments by low- and middle-income countries are evidence based and relevant suffer. Gains made towards achieving the Sustainable Development Goals will be lost and even reversed.
We urge the UK government to reverse the decision to cut funding to international development research.