By Mohamed Bangura, Mohamed Santigie Sesay, Sinneh Turay, Hafsatu Kamara and Zakiatu Sesay
Being part of a team of co-researchers training for the ARISE Community Based Participatory Research (CBPR) was an amazing experience.
This sentiment was shared by a cross section of co-researchers at pre-exploratory research training in Freetown. Three slum communities are being targeted: Dwazark, Moyiba and Cockle Bay.
One of the research approaches in the CBPR process is active learning which promotes peer learning for positive change in intervention communities. This blog gives a collective reflection on the week-long training which created a platform for knowledge sharing among co-researchers and researchers.
What we think of the training
The training session was very educative, as we had the opportunity to learn new ideas. We also had opportunity to learn new research approaches. For instance, we learned the use of social mapping as part of a qualitative research approach.  A practical session was conducted for us to imagine our community and think of prominent places and social groups within the community. We also learned how to do a Venn diagram in another practical session, wherein we identified the most influential people, community leaders, and less influential actors, and how their roles link to each other.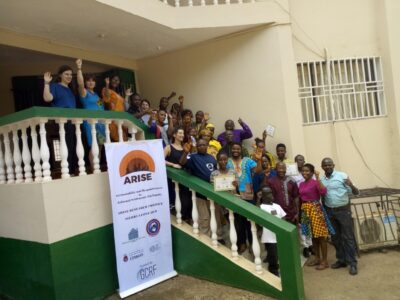 We were also taught how to be a good facilitator and how to ensure inclusiveness during participatory research sessions. The process also involved effectively facilitating interviews/discussions, and being mindful of those that seem to not to partake in discussion. Some of them might be too shy to participate because they might be overshadowed by others who are more vocal. It was also agreed during many of the practical sessions and discussions that it is important to respect and value other people's opinions, as that which will help to motivate people to share their thoughts. It was also emphasised that there is need for co-researchers to maintain confidentiality as interviewees may expect their information given out to be protected. This is in line with the required ethical principles of research.
Additionally, we learned from sessions in the four days training sessions issues like safeguarding policy and well-being. Safeguarding is a recent strategy in International Development practice and research to protect poor and disadvantaged people from harm. Presenters explained events where women and girls were sexually exploited by the UN, OXFAM and other international agencies in Haiti and other poor countries.  The strategy will help shape ethics in research and mitigate potential errors in our work as co-researchers.
On the other hand, well-being was discussed generally as a concept that portrays the general health and socio-economic status of people and how they go about making themselves healthy, taking into consideration people from various classes; the extremely poor, poor, average earners, the rich, the orphans, ghetto youths, widows etc.
How this training has changed co-researcher thinking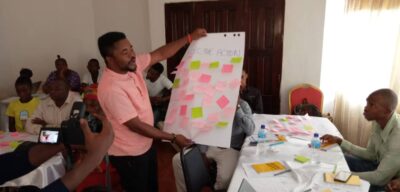 The four-day training has reconfigured our thinking about how we used to perceive certain things in our community. Before now, we thought of well-being as a situation where people were believed to be fine if they were rich; Dr. Bintu Mansaray's presentation provided a different perspective, indicating that even rich people might lack certain things that may affect their well-being.   Similarly, poor people might also possess things that make them attain their well-being particularly if they have connections to influential people who make decisions.
Well-being can also be categorized into various levels of people living in the community as we were told. In our own community, Dwarzark for example, we have the poor, average and the rich, and we also have those we might consider the poorest.  Hence, the level of poverty is not always equal: So we ask: Which groups of people are average earners and what determinants can we use to say that these people are poor, average or rich? Thus, the workshop helped us to understand all these necessary trajectories and indicators. This is the more reason we have concluded that the workshop reconfigured our thinking about our community, levels of poverty and equality.
The importance of the research to our community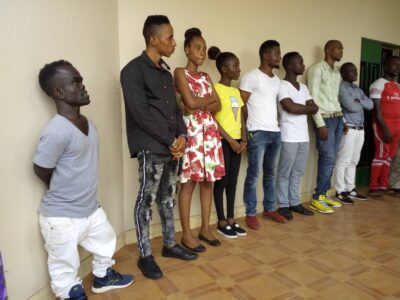 We are confident to say that this research process will help salvage the health challenges we face in our community, and the findings will empower us to create a platform to engage with the decision makers. As emphasised by Mr Braima Koroma, SLURC and its ARISE partners are not implementing agencies, but they find out about community challenges and root causes, and then channel their findings to government and implementing partners.  However, we believe that the first step to solving any problem is to identify its root causes. So as ARISE is undertaking such research in our community, we are optimistic that change will come if we are able to understand the problems.
End note
The training was organised jointly by ARISE Sierra Leone partners and Liverpool School of Tropical Medicine  as part of a process to test how the CBPR process could work and how to empower local communities for action. It took place from 28-31 January 2020.
In Sierra Leone, ARISE is implemented by four organizations: Sierra Leone Urban Research Centre (SLURC), Centre for Dialogue on Human Settlement and Poverty Alleviation (CODOHSAPA), College of Medicine and Allied Health Sciences (COMAHS)-University of Sierra Leone and Federation of Urban and Rural Poor (FEDURP).