By Mary Kerubo, Faith Munyao, Jane Muturi, Veronica Mwania, Yvonne Ngoya, Beate Ringwald and Grace Wairimu
Partnerships grow when people spend time together, share experiences, listen to and learn from each other. This is what we, LVCT Health programme staff, research assistants and PhD fellow, experienced in a two-day training for the participatory PhD research project "Strengthening community health systems to address intimate partner violence and HIV intersection in Korogocho, Nairobi, Kenya".
What is research to us?
In order to develop a joint understanding of participatory research, we first discussed what research meant to us. We drew from trainings and work for previous studies and from working in an institution that embraces research. As a summary of individuals' definitions, we understand research as "a continuous process that involves human researchers and participants and uses scientific methods to answer questions about specific problems to discover new things and generate new knowledge."
How do we know?
We got to differentiate various ways of knowing and learning as we discussed different research paradigms. We shared our experiences of applying respective research methods and, thereby, appreciated those approaches that we were most familiar with. These ranged from secondary data analysis, where the communities who provided data are not involved in the study, to market surveys, qualitative interviews and focus groups that engage community members as informants, and to studies and programmes that seek to educate, engage and empower participants to identify and implement their own solutions. As a result, we recognized that, within programmes, staff generate a lot of knowledge; for example, about implementing, adapting and adjusting programmes. Without finding an immediate answer, we asked ourselves how this knowledge could become accessible and appreciated as evidence beyond LVCT Health.
Who is visible? Who learns?
We looked at the various stages of the research process from defining the problem to getting published and discussed who was involved. First, we focused on "traditional" (non-participatory) research and found that (1) researchers are involved in almost all stages; (2) research assistants collect data and help with analysis; and (3) community representatives are engaged as informants and sometimes consulted to validate findings. Consequently, research assistants are the face of a study in the community, while researchers are most visible through scientific publications. Overall, researchers have the greatest opportunities for learning.
What if…?
We imagined what happened if the community was involved in the entire life cycle of a study as proposed in participatory research. We imagined that studies would respond to problems that communities define, and research methods and tools would be sensitive to local context. Through representatives, communities could be involved in collecting and analysing data, interpreting and disseminating findings. In this way, both communities and researchers would be able to learn from each other and the issues investigated.
What are the implications?
It became clear to us that building good relationships with the community would be critical for the success of a participatory study. Hence, it was recommended for our study that we follow protocols and meet the "right" people as we introduce ourselves and the research idea to the community. The identification of community representatives was seen as being even more critical. Clear criteria are needed to avoid gossip and favouritism and to ensure that community co-researchers are representative for the community. There could also be risks for co-researchers if the topic was sensitive, including violence and HIV prevention, the focus of our study. The list of risks and challenges is not exhaustive. Overall, the idea of participatory research created curiosity among us and was appreciated as a continuous learning journey.
Getting to know our community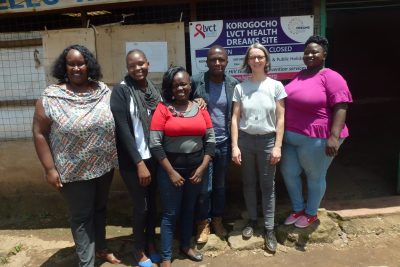 We spent some time on getting basic understanding of the community that we intend to work with. All of us were familiar with the study site as outsiders from visiting, working or doing research there and as insiders from growing up, living and working in Korogocho. In two mapping exercises we shared knowledge, experiences and questions about the community. We recognized that the communities across the nine villages are diverse, and so are the social groups that form the community in Korogocho. While risk of HIV and intimate partner violence may be similar among people within social groups like adolescent girls, young women or people with disabilities, we also identified diversity within these groups. Our understanding is preliminary as we intend to repeat these exercises with community co-researchers and members to learn how they define and describe their community.
Who is already working in Korogocho?
In preparation for visits to potential study partners in the study area, we identified 30 institutions and organisations that provide HIV and gender-based violence prevention or response services in Korogocho or from outside to the people there. We appreciate the variety of services offered – from community mobilization, economic and social empowerment, conflict resolution to provision of counselling, health and legal aid services. As a next step we will visit most of them. We are grateful that we can build on existing work of LVCT Health in Korogocho – most importantly on relationships with the community.
How to work together?
We used the two days to clarify what we expect from each other as partners within the study. The PhD fellow will provide guidance and create spaces for planning, communication and reflection. Research assistants and programme staff will not only provide professional and logistical support to the study but also act as cultural interpreters between the international PhD fellow and community. In order to acknowledge the critical contributions of research assistants to the project, it was agreed that we would call them research partners in this study. Over the two days, we got to know each other better, even those who had known each other before. We appreciated the openness and sharing of experiences and found it important that amongst us we model the respectful partnerships that we want to forge with the community.
About the training
All authors participated in the two-day training for the participatory PhD study affiliated with ARISE. These included LVCT Health staff of the DREAMS programme, Grace Wairimu, Mary Kerubo and Yvonne Ngoya; research partners Faith Munyao, Jane Muturi, Veronica Mwania; and Beate Ringwald, the PhD fellow from the Liverpool School of Tropical Medicine as facilitator. The PhD study will be conducted in Korogocho, Nairobi from March to December 2020.
This blog was first published on the LVCT site and is reproduced here with permission.