This blog was co-produced by researchers and co-researchers in Sierra Leone to share our experiences mapping urban marginalized spaces.
We conducted GIS mapping of three informal settlements to identify key landmarks, physical features, environmental hazards, health risk areas and social groups. The purpose of this work is to use the map to aid participatory data analysis that will identify key health and wellbeing challenges within communities and make maps accessible to community members so they can use them as they wish.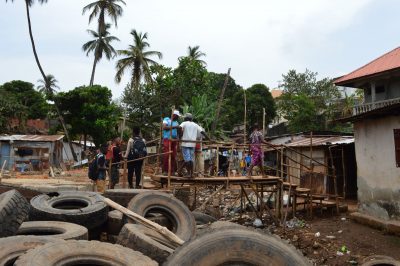 Building our capacity
Our Field team in Sierra Leone is comprised of eight researchers (three women and five men) and 15 co-researchers from across three project communities (seven women and eight men). Before taking up the GIS mapping of project communities (Cockle Bay,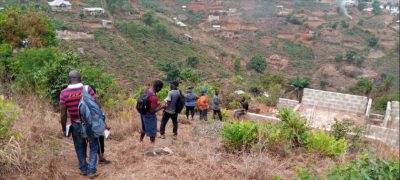 Dwarzark and Moyiba), we held series of workshops to build our capacity as researchers and co-researchers on how to use GPS for boundary mapping and Open Data Kit (ODK) to map services. Workshops were facilitated by CODOHSAPA's mapping expert (Richard Bockarie) and the team's capacity and confidence were improved for the intended task.
"We also learned about the GPS and surveying; it was the first experience for some of us. We acquired technical knowledge. We listened to each other; we held meetings. If we made mistakes, we would find ways to correct them and go back on the field. The mapping exercise also allowed us to know our communities better and what the real boundaries are of our communities." (Co-Researcher)
Organizing the team and completing the mapping
Eight days was allocated for boundary and service mapping across three communities (five days for boundary mapping and three days for service mapping). Three researchers and five co-researchers were assigned to the Dwarzark community, three researchers and five co-researchers were assigned to the Moyiba community and two researchers and five co-researchers were assigned to the Cockle Bay community. One community pointer was assigned to each community. Dwarzark and Moyiba had more researchers due to larger land size and rugged terrain which makes it difficult to navigate. With limited equipment two GPS and three phones were allocated to each community.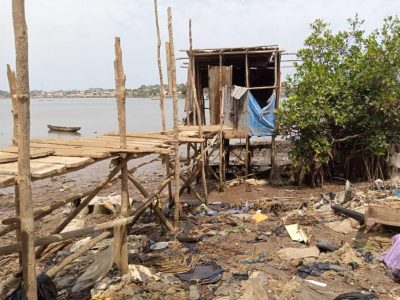 Informal settlements have unique power dynamics. There are local chiefs found across these settlements who were installed by the local government either as tribal or community chiefs. They are charged with the responsibility of regulating customary or bye-laws in their communities. Before our activities began, community leaders (councilors, community chiefs, chairmen and chairladies) and other relevant stakeholders were informed about our objective. This was intended to enhance community buy-in.
In the field, the bigger group assigned to each community was divided into sub-groups in order to cover more ground and efficiently manage time. We also agreed that groups should have a briefing before and after every exercise per day. This was to help us build confidence and address unforeseen challenges.
Reflection from Co-researchers on mapping community boundaries and services
A reflexive session was held after the mapping exercise with co-researchers and community pointers on the importance of the features mapped and the usefulness of the maps to their communities, successes, challenges and lesson learnt from the mapping exercise. The following reflections were share by co-researchers:
Identifying health and wellbeing issues and environmental hazards
"It is important to map the health centre. If the mapping shows that there are no health centres, we can show the government that help is needed. It gives us information on what should be improved." (Co-researcher; Fatmata B Sesay Moyiba community)
"The health center is a key feature in the community because they help the community people. The environmental hazards are important to map also. In Dwarzark community, we do not have dumping site, so people use the drainage to dump the waste. But this is not good because if rain comes, it will overflow.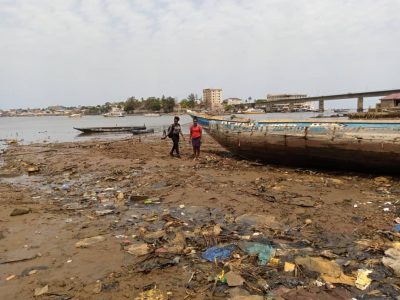 It is important to map these features to know what the issues are and to have improvement, for example constructing a dump site." (Co-researcher; Zakiatu Sesay Dwarzark community)
"It was useful to map out important features within our communities. All of these features are important. In the Dwarzark community, those who are living in the upper part are very prone to disaster and deprived of certain facilities. Those who live down are a little better-off. These physical features are important to identify to gain in-depth understanding of the community." (Co-researcher; Mohamed Sesay, Dwarzark community).
"All the features mentioned are important. The environmental features (flooding area and dumping area) are important to map. During this project, we categorized the communities as hillside or sea-side. The hillside communities have health hazards. Through the mapping and observation, we know where they are located, in which CDMC (Community-based Disaster management Committee, these are groups formed in every informal settlement to champion disaster mitigation activity within their communities.) were later notified, so that they would clean the areas."
"The edge of the banking area is a particularly important feature to map. We need to identify this boundary. There are massive banking activities currently going on there which has changed the landscape of the community. Cockle Bay is situated on wet land and very prone to flooding.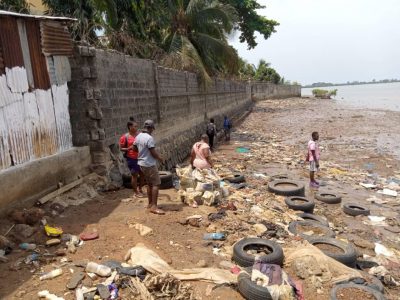 We are very scared that one day high tide and heavy rain will happen simultaneously, which has never happened before, but if it does happen the community would be seriously damaged. We need to work as a community to prepare ourselves for this day. We wouldn't be able to save our properties, but we need to be ready to save our lives." (Co-researcher; Frank Bubu Kamara Cockle Bay community)
"The boundary mapping is also important; it helps the community to know what the boundaries are. For the seaside communities, it is important to map the boundaries because people are banking. So, in 5 years, we will be able use the map to asses and indicate the extent of the banking activity and the threat it poses to the community" (Co-researcher; Esther B. Sesay Cockle Bay community)
Supporting to strengthen accountability mechanisms to address identified challenges
"My position influences my access to services in the community. In hilltop areas, it is hard to have water access especially for young girls. So, we sensitized the water manager on this issue and allocated a certain time for young girls to fetch water to protect them. This allows us to reduce issues related to teenage pregnancies and early marriage." (Co-researcher; Zakiatu Sesay Dwarzark community)
"I am also a community animator for NGOs working in my community. So, people know me because of this community work. It makes me feel good. I am also the community chairlady and I control 32 taps in the community.  This taps really helps the community by protecting young girls from early marriage and teenage pregnancies. It also prevents school dropout by enhancing water access." (Co-researcher; Jamestina Sia Bayo Moyiba community)
"I am a CDMC chairlady, so it is important for me to map out the dumping site to organize the CDMC team to clean these areas and reduce health hazards. All of the features are really important for me to map since they allow me to better understand and coordinate programme more efficiently."  (Co-researcher; Zakiatu Sesay Dwarzark community)
"We had to explain to the dwellers that we were not surveyors but mapping the community boundaries as part of the ARISE research project so that they would let us pass. We learnt a lot about the GPS mapping techniques. Now we are able to map anything. It also allowed me to know more about my community." (Co-researcher; Saud Kamara Moyiba community)
Building capabilities and capacities
"There was a good working relationship between the researchers and co-researchers in the field as always. We divided the team in two sub-groups, but the information circulated well between the groups allowing the work to be successful. We would meet every morning and do a briefing on how to tackle challenges in the field. We were happy to do the work, so we got the best out of everyone. For most of the co-researchers, it was the first time we were doing this work, and we were very enthusiastic." (Co-researcher; Mohamed Bangura Dwarzark community)
"The researchers were very caring and respectful to us which helped a lot to get the work done. There was a good working spirit, we ate together etc.… This good interaction really helped realize the work."
"It is important to have good pointers that know the community well for the work to go faster and easier." (Co-researcher; Jamestina Sia Bayo Moyiba community)
"We are happy because we learnt a lot. As co-researchers we did our work on our own. (Co-researcher; Issa Tuary Moyiba community)
Challenges in mapping informal settlements
Mapping informal settlements comes with lots of unforeseen challenges that might be encountered. These can range from challenges of equipment, personnel, personnel, time management, geographical terrains of communities or the community residents themselves.
We underestimated the size of Dwarzark and Moyiba community, so it took more days to complete. To complete the mapping than we had anticipated.

Dumping site on the coastline of Cockle Bay community
Photo credit: Samuel Saidu, Researcher.

The GPS had a technical fault which also delayed the pace of work. There were also doubts about whether to map certain areas as informal settlements or not. This is because some community zones had massive properties. In the end, the contested areas were mapped since the technical team and community pointers (who were selected because they lived in these communities) gave directions on how to draw appropriate boundaries.
Community members in Cockle Bay were fearful when they first saw the team mapping the boundaries. Community members repeatedly asked about whether it was part of the eviction process. The intervention of co-researchers and the community chief, allayed their fears. The community Chief assigned one community stakeholder to us so we could explain our objectives to residents. With support from the co-researchers and community pointers we were able to gain their trust.
It was difficult to take photos and map out boundaries on the coastline in Cockle Bay due to high tides. As a result, researchers had to wait for low tides to continue, causing delays.

Researchers and co-researchers climbing to map hill top areas in Dwarzark community.
Photo credit: Samuel Saidu, Researcher.

There were few incidents of accidental falls and minor injuries sustained by some co-researchers and researchers during the mapping exercise. They were taken to the community center for treatment and we tried to find better ways of navigating rugged terrain using ropes and support to each other to cross rivers and climb hills.
Resident in Moyiba community reported to us about incident of violence and robbery in a section of the community. That section of the community was inaccessible by the team for several days.
Although faced with many challenges we were able to complete the mapping exercise. It was a great experience for us all, as we learnt new things about our communities, exhibited great teamwork and had fun.
Upon completion of the boundaries and service mapping, a draft map was produced and a validation workshop convened. The validation workshop comprised of all those who participated in the mapping exercise such as researchers, co-researchers and community pointers.  During the validation session, co-researchers were asked what they wanted to do with these maps within their communities and for ARISE data analysis. They stated that they want to use the map to advocate for development in their communities and also to change the behavior of people doing banking, building in hazardous locations and for proper waste management.  We are continuing to support communities to take forward their priorities.
Notes
Produced by (Researchers) Samira Sesay, Abu Conteh, John Smith, Dr. Bintu Mansaray, Mary Sarah Kamara, Daphnée GOVERS, Samuel Saidu, Ibrahim Gandi and (Co-researchers) Mohamed Bangura, Mohamed Sesay, Zakiatu Sesay, Sinneh Turay, Hafsatu Kamara, Jamestina Sia Bayo, Fatmata B Sesay Suad Kamara, Issa Turay, Abdul Karim Kamara, Alieu Bah, Frank Bubu Kamara, Esther A Kamara, Abu Sesay.
 MAPS (Boundaries and services)