Kenya's progress towards achieving Sustainable Development Goal 6 has been slow, with only 59% and 29% water and sanitation coverage, respectively (JMP, 2019). Sewered sanitation is currently available to only about 3.9 million people in 26 counties with 61% of these being within Nairobi County. 21 counties lack any systems for waste management (WASREB, 2020), while funding for sanitation remains low. With less than ten years to go, Kenya must act fast if it is to achieve water and sanitation for all by 2030.
Women and youth are largely responsible for household water, sanitation and hygiene (WASH) management and bear a disproportionate burden when these basic services are lacking. However, they are often left out of critical discussions and decisions relating to water and sanitation. There is evidence that women and youth participation in water and sanitation decision-making and governance can lead to their social-economic and political empowerment and can enhance performance outcomes for the household and community (UN, 2019).
The ARISE team at African Population and Health Research Center (APHRC) supported the Water Services Providers Association (WASPA), Ministry of Water, Sanitation and Irrigation (MWSI), Women in Water & Sanitation Association (WIWAS) and the County Government of Nakuru to hold the inaugural Youth & Women in WASH conference (Conference website) in Naivasha, Kenya from 30June – 3 July, 2021. The theme was 'Unlocking potentials of Youth and Women for Sustainable Water and Sanitation Services.'
The Conference was officiated by Hon. Sicily Kariuki, EGH, the Cabinet Secretary, Ministry of Water, Sanitation & Irrigation (MWSI). It brought together stakeholders from the water and sanitation sectors to share good practices, deliberate on prevailing challenges, and formulate strategies to leverage youth and women's potential to accelerate the realization of universal access to potable water and safely managed sanitation services.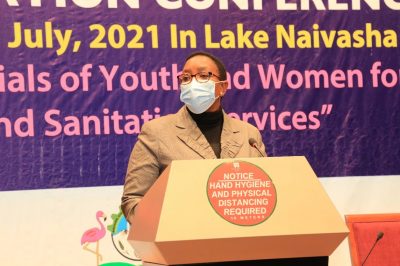 In her opening address, the Cabinet Secretary, Hon. Kariuki outlined the efforts her ministry was implementing within the Water Sector in promoting and championing women's inclusion in decision making in order to empower them and improve services in the sector.
"When women and youth are incorporated in these sectors and in all sectors for that matter, the individual, the organization and the community is enriched," she said.
Chief Administrative Secretary, Gender from the Ministry of Public Service, Youth and Gender Affairs, Hon. Dr. Linah Kilimo noted that access to clean water and adequate sanitation contributes to the achievement of gender equality and women's empowerment. She noted that the violation of these requirements was a violation of women and youths' rights.
"Inadequate access to safe hygienic and private sanitation facilities is a source of shame, physical discomfort and insecurity for millions of women across the world", she said.  "In informal urban settlements like Mathare valley in Nairobi, women have to wait until it is dark to empty their bowels. As a result, they tend to drink less during the day resulting in all kinds of health problems," she added.
The CAS reiterated government commitment to affirmative action funding for women and youth through the Ministry of Public Service, Youth and Gender Affairs. She urged women and youth groups at the conference to take advantage of interest-free loans such as the Women Enterprise Fund, the Youth Enterprise Development Fund and UWEZO Fund to develop and earn profits from water and sanitation projects.

The ARISE team at APHRC supported the conference preparation with Caroline Kabaria chairing the Scientific and Technical Committee. Blessing Mberu gave a keynote address on capacity development and research to optimise the untapped potential of youth and women in the WASH sector. In his address, Blessing highlighted the need for continuing demand for equity in bringing women and youth into WASH governance. Beyond the focus on existing positions however, he calls for focus on developing new and emerging frontiers in the sector where women and youth can offer leadership along the WASH value chain. Areas he identified included innovations using technology like e-payment platforms, designing, manufacture and distribution of gender sensitive sanitation products, WASH entrepreneurship and tapping into opportunities in capacity building and research leadership, where women generally have comparative advantage. He specifically called for investments in capacity building towards a critical mass of women and youth professionals for research leadership with training at Masters and PhD levels. He identified existing scholarship models for graduate training that can be amplified, and called for interrogation of the pathways of women in Science, Technology, Engineering and Mathematics (STEM) in relation to recruitment, retention and career progression towards leadership and beyond. WASH is an essential sector and the overarching question is about how to mobilize our human capital in youth and women, train and engage them. The overarching answer is about evolving an inclusive productive process of inputs and outputs in existing opportunities, in creating new ones, new frontiers, and new models by and for those well trained, ready to engage and proceed. The pathway forward includes addressing structural hindrances. The youth of today will get older and their children – the young men and women of tomorrow – will end up in the same spot and crying the same cry of yesteryears and our today.
"Every generation has their challenges and ours is with us including how to build an inclusive equitable society and sectors, Let us do it collaboratively," he concluded.
To amplifying community voices and the interface between citizens and government to build collective capacities, ARISE mobilized and supported six youths and women from Korogocho and Viwandani informal settlements to participate in the conference and make presentations. The participants from Sidarec, Slum-Tv Kenya, U-Tena Youth Organization, Ghetto fm Mukuru, Slum child foundation, and Fuata mkwanja exhibited their activities in water and sanitation in their communities.
"We got a rare and a unique opportunity to make a brief presentation about our work in the line of Water, Sanitation and Hygiene to Ministry of Water, Sanitation and Irrigation Cabinet Secretary, Hon. Sicily Kariuki and other top delegation in our stand on the sidelines of WASPA Youth and Women Water and Sanitation conference 2021. We are happy to be working with African Population and Health Research Center, Sidarec, Slum-Tv Kenya, U-Tena Youth Organization and Ghetto fm Mukuru", they said.
Exhibition

In addition, the community groups also discussed their work in a conference session in a joint presentation with Ivy Chumo, a Research Officer at APHRC and PhD Candidate at LSTM supported through ARISE Hub.
Innovations Award
Two community initiatives were awarded second and fourth place in the Community Category of the Conference Innovation competition dubbed Vijaana and Dada Water and Sanitation Awards. The two were feted with other competitors at a gala event officiated by the Dr. Andrew Tuimur, Chief Administrative Secretary, MWSI.

The two awardees were part of community participants in a Youth and Women Water and Sanitation Forum co-hosted by ARISE in May 2021 in Naivasha, Kenya.
Women at the helm of water and sanitation

Pre- conference (Group Photos; From left; women group and youth group)
Video links (Blessing and Florence)
In addition, APHRC partnered with the Women in Water and Sanitation Association (WIWAS) to convene a session on Strengthening the Role of Women leadership in the management of WASH at the conference. The session, moderated by Caroline Kabaria, created a forum for women leaders in the various Water Service Providers (WSPs), WASH related institutions and communities to speak candidly on the challenges faced by women and youth in accessing opportunities in the sector.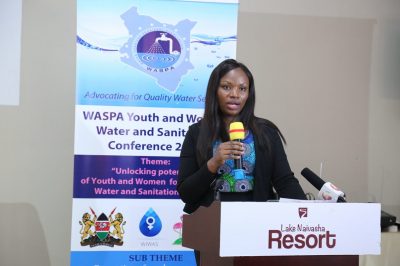 "The engrained social norms which trickle down to prejudiced hiring processes and limited training and networking opportunities has been a major contributor to the unequal employment opportunities throughout women career trajectory," said WIWAS chair Dr. Leunita Sumba in her opening remarks at the session.
"Career progression plans in most organizations are steep and the barriers placed by the male dominance in the sector make it nearly impossible for women and youth to occupy positions of leadership. It is therefore necessary for women and youths to be proactive but also have support from those in leadership to create a level playing field," said Margaret Maina, Managing Director Limuru Water and Sewerage Company.
During the session, Amb. Dr. Mary Khimulu presented the UNESCO World Water Assessment Program (WWAP) call to action to accelerate progress towards the achievement of gender equality in the water sector. The call is to decision makers across the board to accelerate concrete actions towards the achievement of "water access to all without discrimination; promoting women's leadership in water management and governance; protecting women's water rights and applying gender-equal financing, narrowing the gender gap between policy and practice, prioritizing the collection of sex-disaggregated water data and counter-fighting norms and stereotypes that disadvantage women and girls."
WASPA CEO, Antony Ambugo, pledged to support in strengthening WIWAS through continuous collaboration as well as recruitment of members from WASPA members.  Other members of the panel were WIWAS Male Champion Eng. Simon Thuo, Beatrice Langat, a senior research Officer at Kenya Water Institute, Monica Tuli Ag. Human Resource and Administration Director at Nairobi City Water and Sewerage Company.
The women in leadership positions were also encouraged to create enabling environments for the younger generation as they work towards positions of leadership.
"Do you leave the door open behind you or do you close it?" asked Linda Gwanda, the Communication and Corporate Affairs officer of the Water Sector Trust Fund fellow panelists and the audience.
The main outcome of the session was to setup a deliberate effort by WIWAS and its members to start mentorship sessions for youth and girls at high school and college levels.
Sheillah Simiyu, Francis Onyambu, Phylis Busienei, and Ivy Nandongwa joined the ARISE team at the conference where eight abstracts and presentations were made based on various ARISE and Urbanization and Wellbeing in Africa (UWB) research at APHRC.