As the year draws to a close our Communications Manager, Kate Hawkins, provides a summary of popular content from the website over the course of a challenging year. Did your blog make the top ten? Read on to find out!
To give us an idea of which parts of our work over the year have resonated with our online audience I have put together a top ten of the most popular content on the website. This gives us some insight into you, dear reader, and will guide us in the future.
This blog by myself, Jessica Amegee and Rosie Steege provides a round up of guidance on remote methods – amalgamating knowledge from around the web. It was written when it was clear that ARISE was going to have to drastically shift its ways of working in relation to the pandemic. We're pleased that it is a piece that has resonated with other researchers in the same boat. It's also a good reminder that people are interested in the Community Based Participatory Research approach we use, and not just the findings.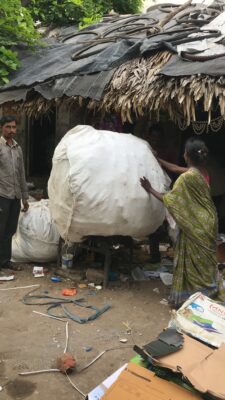 This photo essay by Shrutika Murthy was a shining example of the multi-media communications that we are spearheading in ARISE. The photo essay grew out of our work with waste picking communities in Vijayawada, India. Suvartha collects and sell recyclables as an occupation and lives on the fringes of slums. Insights into her life and the feelings of the researcher who is walking alongside her run throughout the photo essay.
The third most popular content was a blog by Joseph Kimani who works at SDI Kenya. He provided a rousing call to action. His aim – to tackle structural violence against poor and marginalized people.
"Violence is a monster that is omnipresent in low-income areas. Slums have become synonymous with violence, crime, criminalization of youth and 'illicit' income activities. The feeling of oppression and deprivation makes the entire settlements a no-go-zone. As a result, innocent, poor, marginalized and vulnerable members of communities who cannot escape or leave the settlements are trapped hence affecting their health and wellbeing."