By Imran Hossain Mithu
Indian activist Kailash Satyarthi once said:
The power of youth is the common wealth for the entire world. The faces of young people are the faces of our past, our present, and our future. No segment in the society can match with the power, idealism, enthusiasm, and courage of the young people.
The COVID-19 pandemic, a world-wide crisis, has shaken the world with its widespread dreadful effect on the humans. While the government of Bangladesh is busy with their vested interests, the youth of the country has taken responsibility for responding whole-heartedly on their shoulders.
In Bangladesh, the youth have come forward and responded to this public health emergency at local level to fight back the global pandemic. From the beginning of the pandemic, different youth-led organizations – Bidyanondo foundation, BacharLorai, Monerbondhu, Garbageman, BD Assistant have taken initiatives across the country along with the Government of Bangladesh and NGOs.
In rural villages and urban slums, they have participated in COVID-19 initiatives to protect their own communities. Unfortunately, unlike larger initiatives, those small-scale local level projects are not being highlighted though they are significantly contributing to their community.
Dholpur
Dholpur, a slum located in the southern part of Dhaka city under Dhaka South City Corporation, is the home of approximately 135,000 people and most of them are City Corporation cleaners, rickshaw pullers or daily wage earners. Many NGOs have been working there for a long time and have established schools, installed community latrines and water supply facilities, constructed roads, and so on.
They most often recruit local young people to work with them as volunteers or paid staff. However, NGOs' activities are short-term, and the presence of public institutions is very limited so most of the problems the community face are either temporarily solved or remain unsolved. As a result, the young people of the slum have come forward to take actions. Anwar Rana, a 22 year old inhabitant of Dholpur slum, along with some other young inhabitants have established a local informal youth organization in 2019 named "Youth Associate" with the aim of improving the living condition. Now there are a total of 25 members who are directly or indirectly affiliated with different NGOs.  Rana said:
There are many non-governmental organizations that work in our area, and they engaged many youths of our area in their activities. However, NGOs will not stay in our area for a long time. What will we do then? Hence, I discussed with other youths who also work in different NGOs, and we established this Youth Associate.
Youth Associate have carried out many social activities in Dholpur slum in collaboration with different governmental and non-governmental organizations, such as improving drainage system and building awareness on Dengue, child marriage and fire incidents in the slum.
In March 2020, when COVID-19 hit Bangladesh Youth Associate members also heard about this deadly virus and became anxious about the safety of their community. Moreover, the crowded settlement and poor living condition (living in a single room, shared kitchen and toilets, and lack of basic sanitary service) make them more vulnerable to the rapid spread of COVID-19 and following recommended preventive measures, such as maintaining physical distance, nearly impossible there.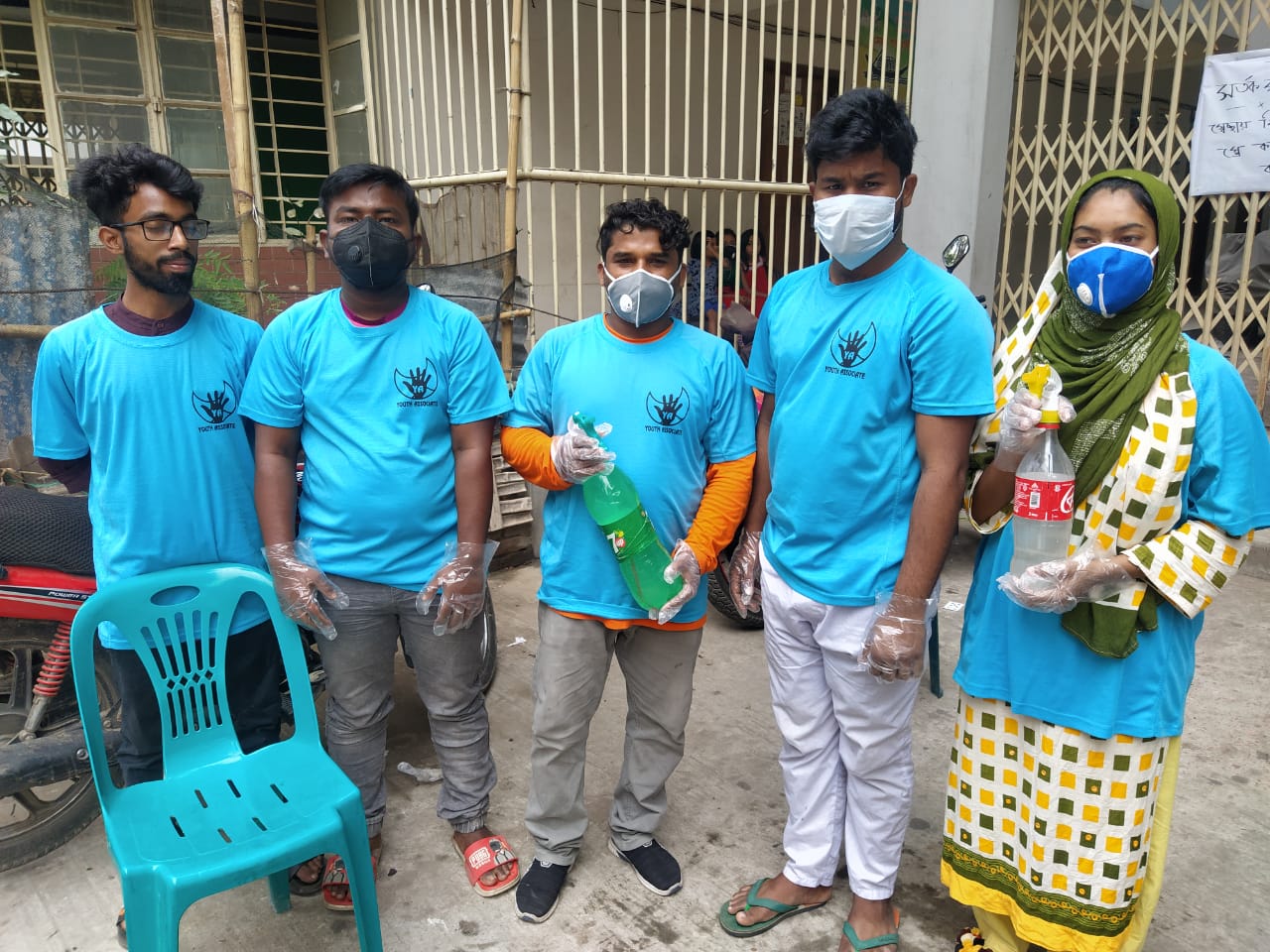 Youth Associate members called an urgent meeting to discuss the COVID-19 situation and make their plan of action. They came up with some ideas – building hand washing facilities, creating social awareness, distributing masks, etc. However, as a voluntary informal organization, they did not have enough funds to execute their plan. Therefore, they decided to utilize their existing networks for mobilizing resources. Most of the Youth Associate members are affiliated with different NGOs and have been working for the development of Dholpur slum in close collaboration with the City Corporation, which gave them the strength and encouragement of seeking support from their organization and City
The first initiative Youth Associate took was building awareness about Covid-19 in the Dholpur slum. They printed posters and bought mikes with the money donated by the members. Youth Associate volunteers visited every corner of the slum, and did miking, posted posters on the walls in different important locations inside the slum to inform their community people about preventive measures.
Their second target was to encourage Dholpur slum residents to practice hand washing as a preventive measure. Dholpur slum lacks proper sanitation facilities, which makes maintaining recommended hygiene practices difficult for the residents. As most of the inhabitants of Dholpur slum are City Corporation cleaners who were continuing their work, Dhaka South City Corporation (DSCC) took an initiative under the Livelihood Development Project for Marginalized People by installing some hand washing stations at the entry point of Dholpur slum to promote hand washing practice among the cleaners. Youth Associate volunteers assisted DSCC in selecting spots, installing hand washing stations and encouraging residents to wash their hands every time before entering to the slum.
Youth Associate volunteers have also been playing a crucial role in distributing relief goods among the poor households of Dholpur slum. They have been assisting government agencies and NGOs by making list of poor households, collecting food and cash as relief goods, and distributing those among the listed people. They also contacted local philanthropists, other larger volunteer organizations, Ward Counselors and local political leaders, and managed relief, especially food relief for the extreme poor households and marginalized people of Dholpur slum.
The rapid upsurge of COVID-19 in Bangladesh, meant a lack of personal protective equipment and a lack of financial support made Youth Associate's activities difficult. Due to the high risk of getting infected because of the nature of their activities, the families of youth volunteers are now restricting their mobility which leads volunteers to lessen their activities. Instead of having all the challenges the youth volunteers are mentally satisfied with their contribution for the betterment of their community. Rana, the founder of youth associate said:
Although we are now working with the fear of being infected, it gives us mental satisfaction. We are happy that we can do something for our community people to save them from the deadly virus.
The activities of Youth Associate reflect that youth are capable of executing many excellent actions for their community, nations, and the world, even in the poor informal urban settlements. Young people are valuable assets for the nation. A country can develop its youth population as human capital by investing on developing their capacity and equipping them with knowledge and skills to fight against emerging challenges of the new era, which is fundamental to achieve the Sustainable Developmental Goals by 2030.