By Joseph Kimani
My visit to Korogocho was special in a number of ways. On arrival at Korogocho I had a moment to chat and interact informally with Korogocho Community 'Covid response team'; Komb Green team (Wys, Okinda, Roba and team), Korogocho resident committee ( Kinyanjui, Gathu and Mzee Njoroge), Uncle, Balozi, Jemo and Emmy (Miss Korogocho). Having interacted with them at lengths and seeing their efforts in raising Coivid-19 awareness opened up to the possibilities of dealing with the pandemic through collective community efforts.
Residents in Korogocho are well aware of the pandemic and like most people everywhere are working hard to adhere to government directives regarding preventing the spread of the virus. However those I talked to were of the opinion that intense awareness is still needed.
Our conversations with the team were centered on looking at ways to protect the most vulnerable persons in the community. Korogocho according to APHRC's, Nairobi Urban Health Demographic Surveillance, has a population of 31,000 people spread within 1-1.5Km square of land. Nairobi informal settlements densities are at 230 households per acre according to Muungano profiling data. Muungano wa Wanavijiji has counted over 300 slums in the Country and classified them as vulnerable settlements due to the fact that they lack secure tenure, basic amenities and infrastructure.
At a settlement based level vulnerability is defined differently by different interest groups. In Korogocho our conversation highlighted the following as those constituting the most vulnerable people in the context of Covid-19. These are; persons with disability, elderly persons who are living alone, elderly persons who are sick, elderly persons who are taking care of grand-children, single mothers, young mothers who work at night to earn a living, young men and women who work at night now affected by curfew, persons living with HIV, terminally ill persons with diabetes and cancer, tuberculosis patients and survivors, street children, persons earning their living through garbage collection among various other groups.
Through our discussions, it was evident that literally every single person spending and living inside an informal settlement is a vulnerable member of this society. Muungano and other community based organizations are working hard to identify and build realistic support approaches for those considered most vulnerable and hard to reach members of the community and in the long term build on the resilience capacities of the urban poor neighborhoods.
The Approaches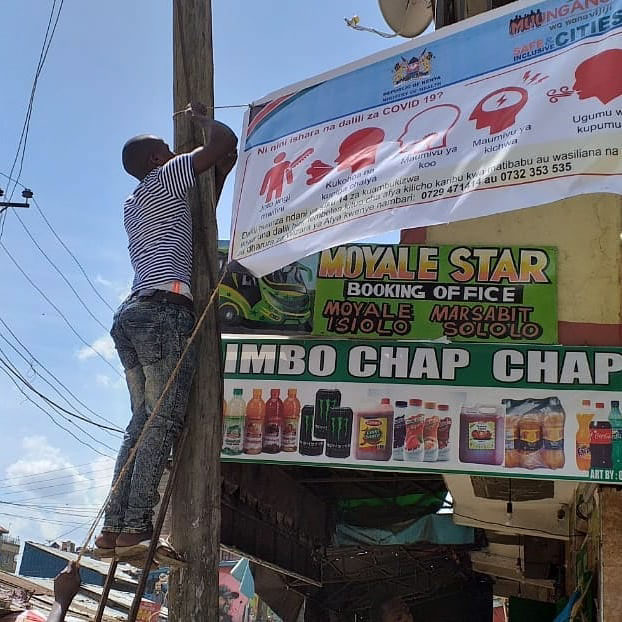 It is still unknown the extent to which Covid-19 will impact the country at large, but it is expected the virus may devastate the country's most vulnerable people; many who dwell in the densely packed settlements in the capital. These settlements are characterized by inadequate water and limited access to quality and affordable health care, all key necessities especially at the wake of Covid-19 pandemic. Measures to prevent the spread of the virus have been introduced at various scales to provide a safety net for community residents and allow for a continuous undisrupted chain of activities within the communities. However the current state of affairs calls upon for much more interventions to ensure all are well cushioned from the social and economic impacts of the virus.
These communities are known for their strengths to mobilize and self-organize in a bid to secure opportunities for development. While capitalizing on this invaluable asset, Muungano working closely with its partners and local community, have made strides in rolling out local strategies that places some of the much needed essentials, within community reach. This has been executed through provision of Covid-19 information materials at key locations and provision of washing stations that have served hundreds of residents within settlements such as Korogocho, Mukuru, Kibera, Huruma, Mathare, Kisumu and Nakuru.
These approaches will be instrumental in stalling the spread of the virus through ensuring these much needed fundamental necessities are within community reach thereby contribute to flattening the curve.
"Everyone is making sure messages of Coronavirus are well spread in Korogocho. From the kids to the elderly. Everyone must take action" Fredrick Okinda Muungano, Korogocho resident.
Now is the time to act as high demand continues to be felt for more prevention interventions to protect vulnerable communities against the pandemic. With practical solutions, and collective efforts, a successful fight against the Covid-19 pandemic lies close.
Credits
This blog was previously published by SDI Kenya and is reproduced with permission. All images were taken by Know Your City TV and we extend our thanks to them for all of their great work documenting the COVID-19 response.