By Margaret Bayoh, Yirah Oryanks Conteh and Sally Theobald
Valentine's Day – a day to express love! For the Federation of the Urban and Rural Poor (FEDURP-SL) in Sierra Leone Women's Supporting Wing, this is a day of action, activism, experiential sharing and showing love for slum communities.
This year women who are linked to the Federation are invited from across Freetown to come together, dialogue, share learning and adapt best practice from different slum communities. The meeting includes a review of progress in FEDRUP-SL's five main committees in Sierra Leone:
Group mobilisation
Advocacy
Disaster management
Data
Projects
Data – alive, owned and updated within communities – is key to Slum Dweller's International's way of working. Information is power and data collected in "Know Your City" process include settlement profiles, household-level censuses and mapping. The Federations Women's Wing is very active in educating girls in slum communities about savings groups. Savings groups can encourage trust and support opportunities for dialogue with the government about the realities of slum communities. Savings are also seen as key way to support girl's education another strong aim of Sierra Leonean Federations' women's wing.
We are together in Kenya, in the inception meeting for the ARISE hub, and have also been privileged to dialogue with inspiring organisations within Kororgocho informal settlement in Nairobi which are working in partnership with girls and young women.
Through the DREAMS project (Determined, Resilient, Empowered, AIDS-free, Mentored and Safe) LVCT Health has spearheaded HIV prevention for adolescent girls and young women in Kenya. Across Kenya 30,880 adolescent girls and women were enrolled in 359 safe spaced to receive various interventions and 154 mentors have been trained. Girls and young women receive cash transfers and education subsidies and are supported in a range of income generating activities.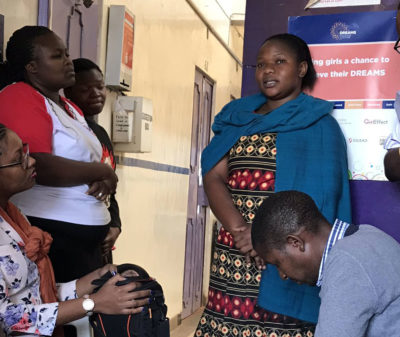 At the Consortium Advisory Group of the Korogocho informal settlement, which guides and supports research work linked to African and Population and Health Research Center (APHRC), another Arise hub partner, we also met with representative from Emmie Erondanga from Miss Koch Kenya. Emmie explained how with support from APHRC, the organisation has been able to support more girls – and latterly boys – to enrol in school. Miss Koch has also been addressing gender-based violence and providing safe spaces and support to those affected. She has started the process of addressing insecurity within Korogocho, "talking to violent gang members with love" and encouraging them to take different paths in life.
So, love, passion and innovation are alive and well in many of Kenya and Sierra Leone's informal urban settlements, but challenges abound and people are marginalised in multiple ways. Within ARISE we are looking forward to working in partnership and learning together with people living in informal settlements in Kenya, Sierra Leone, Bangladesh and India to promote health, well-being, equity and accountability.
Happy Valentines Day from the ARISE consortium!
Margaret Bayoh Federation Women's Supporting Wing in Sierra Leone Yirah Oryanks Conteh, National Chairperson, Federation of the Urban and Rural Poor (FEDURP-SL) and Sally Theobald, LSTM