By Sarah Iqbal
In 2021, I took part in a diabetes storytelling workshop that supported awareness building efforts to prevent diabetes in India. About fifty participants – a diverse group of writers, researchers, and media artists – gathered to develop proposals for creative solutions for diabetes prevention. These proposals would then be presented to a panel of judges who would choose the most practical idea and award the team a grant to implement it in real life.
Over a couple of weeks, we had morning sessions where doctors, social activists, journalists, and people living with diabetes shared their views on the most urgent requirements to address diabetes.
In the evenings, my team from Lucknow, Guwahati and Chennai would ideate on a digital board, rehashing important points and what could be achieved within the duration of the project.
We filled our board with numbers and figures. There were arrows, circled words, text boxes, problem statements, references to reports and studies, and more. We decided to focus on the growing burden of diabetes among the urban poor.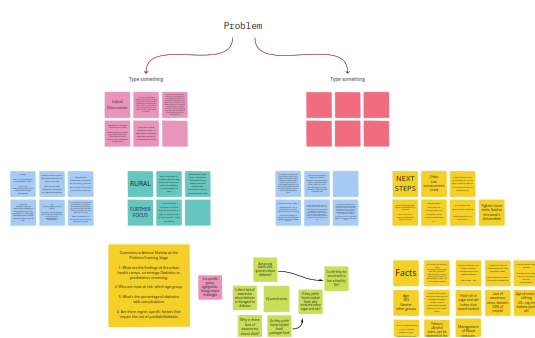 We thought we had zeroed in on a problem to fix. We figured most people from the slum were working as domestic workers, battery-operated rickshaw drivers, or were involved in jobs that required sitting or minimal walking throughout the day. Their daily routines were such that they often ended up consuming sugar-laden things like chai, packaged biscuits, or chips, instead of home-cooked food.
Our subject expert, a doctor working with primary health centres in the villages around Lucknow, confirmed that we were on the right track. So, confidently, we decided to centre our awareness-building solution around WhatsApp messages or a wall painting campaign involving community members. .
Our confidence in our problem-solving skills was quite short-lived. It was only when we actually visited an urban slum that we realised that we were way off the mark.
Visiting urban informal settlements
We visited an urban slum that was next to a disused railway track with overgrown shrubs. The area was dotted with blue-yellow tents crafted from tarpaulin sheets. And we found people sitting in small groups puffing bidis.
We thought we would speak to the people and figure out which of our possible solutions would work best for them. We asked a group of young people how they go about their day – what they do/did for a living, what they eat, how and where they go for doctor consultations when they fall sick.
An old man from the bidi group closest to us overheard the discussion and promptly added, "Sabse achhi dawa wahan milti hai." (The best medicine is available over there) and pointed towards the other side of the track.
A girl standing next to me explained he meant liquor, not actual medicine.
The old man added, "itne baras hogaye hum kabhi kisi dactar ke paas nahi gaye. Kuchh nahi hota hai dawa se" (It has been many years since we visited a doctor. Medicines don't help.).
I can't recall if we asked him any question after that. After all, our target population was the 18-35 year olds. I was more interested in learning what they thought about health, nutrition, and food habits.
As the answers started pouring in, I started striking out possible campaign ideas in my head until we were left with nothing.

They told us that they don't have permanent jobs. Most of them go to the labour market and offer services in exchange for money. The pandemic had already worsened their limited work opportunities. Since they were not skilled, they were paid a very nominal wage for a day's work; a pittance really. The women usually worked as waste pickers – collecting mostly plastic from different dumping grounds.
All of this indicated that they clearly did not lead sedentary lives. I made a mental note: "Strike out promoting more physical activity."

The group said that their day often starts as early as 4am. Any two family members would cook for everyone in the household. They avoided sugar in their tea. On days when they had money, they would consume fish. But there were days when they stayed hungry for the entire day. They sometimes bought small biscuit packets while at work, but that was very rare. Another mental note to self: "Strike out any suggestion on nutrition."
Except for one person who had an analogue phone, none of the others had a cell phone. There was just one person in their community who had a smartphone. Another mental note to self: "Strike out picture/ video messages on WhatsApp."
Their homes did not have any walls. So, next mental note: "Strike out wall paintings."
There were no proper shops in this area, except for one shop that sold bidi and pan. There were no vegetable or fruit sellers around.
People living in this area had no access to regular water supply or toilets. There was a common tap that was operational only at certain hours everyday, and people had to queue up to collect water for bathing and cleaning.
One of the women from the group thought we could help with their Aadhaar card (a biometric unique identification document in India) problems. She had lost hers because of flooding in her village. Now, she had no proof of identity to access her monthly ration entitlements.
We then went to another group of settlements, just two lanes away, and this place matched our target group.
Homes were made of more permanent materials (like concrete or brick), and people were able to avail their ration entitlements.
Most of the women were homemakers who spent a lot of time watching television. Children consumed packaged food like chips, biscuits, and pasta on almost a daily basis. Most of the men were e-rickshaw pullers or small stall owners, who spent most of their day sitting. These men often consumed street food instead of carrying home-cooked meals.
In fact, all of them had some idea about diabetes. A woman told us how her brother-in-law, an e-rickshaw driver, had been recently diagnosed with 'sugar ki beemari'– a colloquial term for diabetes.
All children in this area attended schools nearby, and even used smart devices to continue their education online during COVID.
We were baffled by the stark contrast between these two settlements barely 500m apart. We realised that our diabetes messaging was far from perfect.
Adapting our proposal
Over the next couple of days, we incorporated our learnings and came up with a new idea: an approach centred on nutrition.
We proposed a highly complicated plan to create a series of a-day-in-the-life videos for policymakers. We thought it was important to show a snapshot of the lived realities of people living in informal settlements. These videos aimed to highlight the nutrition issues in both settlements: access and affordability of different kinds of food, access to healthcare, problems related to active/sedentary lifestyles, existing solutions and their drawbacks/successes.
We also thought of using Twitter storms to amplify the messaging and link it with the Government's 'Eat Right India' campaign.
Overambitious and complex, I agree. But, the comments from the panel did not talk about the complex nature of this proposal nor did they say that we were targeting the wrong kind of slums.
Instead, the judges felt that policymakers already know what is to be known and that our videos would not be useful for the community. Three out of the four judges told us that a movie (or short movies) for the target community delivered to their phones via WhatsApp or something on those lines would have been a better solution, and even empower the community.
All I could think was- they don't have smartphones!
Our solution was far from perfect. But, it bothers me that even within the proposal we presented, the informal slum dwellers and their issues were invisible to the panel. Just like the yellow-blue tents that are present in every city, but conveniently ignored and hidden when dignitaries pay a visit once in a blue moon