By Samuel Saidu and Abu Conteh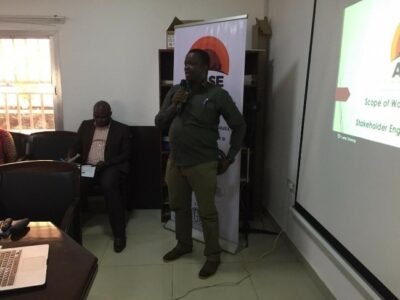 "Don't remove them from the slum, remove the slum-ness from them…Informal settlement residents are used to their communities, which they relate with socially, culturally, economically, so it makes much sense to improve conditions around them rather than removing them."
These were the words of Dr Brima Gogra of the School of Environmental Sciences, Njala University, at our launch earlier this month. He argued that it made more sense for government to provide communities with a safe environment that met their needs rather than evicting or relocating residents.
The stakeholders at the launch were broad-based, including health workers, chiefs, youth groups, women's leaders and representatives from various government departments, including the Ministries of Health and Planning.
At the launch of the project, various speakers, including informal residents, community elders and advocates of settlement upgrading spoke about the need for government to integrate informal settlement upgrading needs into planning by providing water, health services and adequate drainage, and give up plans of relocating them.
We heard from Sister Elizabeth Musa of the Ministry of Health and Sanitation that better research was key to the development of the informal settlements, ''Sierra Leone lacks informed data to make real time decision on the people living in an informal settlement, and today it has resulted into seasonal movement in and out of their dwelling houses and communities. It is scary to hear that a third of the people living in the cities live in slums."
The chief from one of the informal coastal settlements (Pa. Alimamy S. Kargbo of Cockle Bay) in Freetown, passionately expressed how their community has been repeatedly neglected by political leaders in planning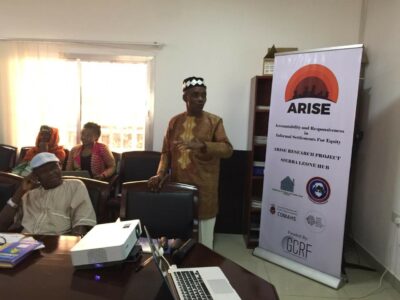 and service delivery, yet they often revert to them when they need political votes:
"We are all Sierra Leoneans but we in informal settlements are loved by season; we are the Cotton Tree, so we remain strong…Our settlements are regarded as illegal, but they don't refer to us as illegal when they need political votes. We need development, we need change in our community.''
A community representative from Dwarzark and a member of FEDURP, Margeret Bayoh, expressed similar frustration about the disdainful way informal residents often are treated by people in authority: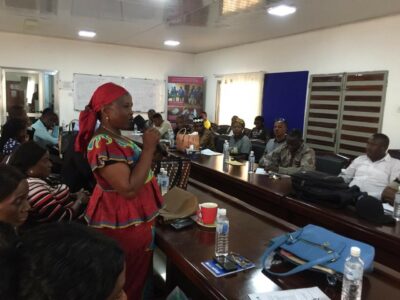 "You say we live in illegal settlements, but our taxes and services are never illegal; we cook, clean, baby sit and drive for the so-called 'people living in formal settlements'."
ARISE is working in three communities on accountability, governance, health and well being, there was a lot of support from all stakeholders to change the narrative around communities in informal settlements. Communities are already well organized, particularly in areas where the presence of central government is limited. They have established networks with government and institutions that can help them effect change, as expressed in some of their popular slogans:
"We reason together, involve together, identify together and evaluate together"
"Information is power"
''We are busy for something"
There is a lot of tension in communities now with fear that slum dwellers may be relocated from their current settlements. In Sierra Leone, the risk of living in an informal settlement is increasing year by year since 2013, with intermittent flooding events, disease outbreaks, and one of the worst mudslides. Urbanization and poverty have made thousands of people leave their homes in the provinces in search of livelihoods in the cities, many of whom live in informal settlements due to lack of adequate housing. Yet, relocation of people living in informal settlements has proven controversial, primarily because of limited access to livelihood options and social services in relocated settlements. A case in point was the relocation of thousands of flood victims in 2015 to a settlement about 20 miles outside Freetown. Many of those who were moved returned to Freetown due to remoteness of the location and difficulty earning a living.
It is important to reflect on a few issues as ARISE becomes a reality in Sierra Leone. How do we hope to address the contrasting views of communities and policy stakeholders in addressing intractable health problems of vulnerable people? How do we get ARISE prepared to meet the urban development challenges and the aspirations of informal settlement dwellers? It is yet to be seen how our contributions will contribute to solving problems that seem so insurmountable.