Community exchanges are crucial, as they enable communities to observe how others in similar situations have resolved their issues. By identifying similarities, they can learn from each other and test new solutions. Community exchanges also foster a sense of solidarity among communities by highlighting that many others also face similar challenges. This shared understanding helps strengthen relationships and promote collective action to address common problems.
Over the past four years, we have engaged in discussions with residents from relocation colonies in Ahmedabad, who were displaced due to the Sabarmati Riverfront redevelopment project, and with the members of the National Slum Dwellers Federation and Mahila Millan in Mumbai.
Local accountability and governance structures
Initially, our exchanges focused on understanding the context of their relocation in Ahmedabad. We examined their living conditions, housing provided by the state, and how they managed operations and maintenance. However, we soon realized that many communities lacked organization due to the absence of cooperative societies or proper procedures for maintaining a transparent system.
Slum relocation sites in Ahmedabad are characterized by a spate of vulnerabilities, and people suffer due to poor institutional support post-relocation, poor access to basic services, and caste conflicts among the residents. These issues largely emerge because of poor local accountability and weak governance structures, such as Co-operative Societies that are responsible for operations and maintenance and keeping the colonies in order.
This is in contrast to Mumbai, where relocation sites of a similar nature, through the continued support of NGOs, have successfully operationalized well-functioning societies and have robust community-based organizations in the form of the Mahila Milan and federations.
Having them learn from each other then becomes imperative in devising strategies that can be emulated within local contexts.
How can community exchanges be transformational?
We invited prominent resident leaders to visit Mumbai's slum relocation colonies to learn about organizing societies and managing operations. As a result of these visits, several informative exchanges took place, with some transformational results.
Improving water issues in the relocation colonies
In the relocation colonies in Ahmedabad, women were generally underrepresented in conversations and decision-making processes. However, we knew, from the historical work of Mahila Milan, that including women could greatly improve problem-solving efforts for issues that residents at relocation colonies in Ahmedabad faced.
In May 2022, during medical camps, a group of Mahila Milan members from Mumbai visited the relocation colonies. During this community exchange visit, the Mahila Milan encouraged women in the colonies to participate. Despite being told by men that women wouldn't participate, things changed when Mahila Milan members visited individual homes and invited women to the meetings.
These meetings empowered the women to form groups, address local issues, and voice their opinions. As a result, more women began participating in the process. After one such meeting, the newly motivated women successfully protested a water issue with their political representative and got their concerns addressed.
Overcoming caste differences and gender divides
Before COVID hit, male community members from Ahmedabad visited Mumbai for a community exchange. They were surprised to see, firstly, people from all religious communities living and working together, and, secondly, women in positions of leadership and being very articulate about challenges and the work they do around it. In contrast, in their own communities religious segregation and constant caste clashes were large barriers to unifying the residents. The visit changed their thinking, and they realized that bringing people together is crucial for addressing common issues effectively.
After returning to Ahmedabad and reflecting on their experience in Mumbai, there was a significant increase in women's participation and an improved understanding among community members about the importance of collaboration and overcoming caste differences. This experience changed their perspective on how associations work and why participation from all is essential.
These examples demonstrate how community exchanges can expose people to other ways in which people with similar backgrounds live and function. Community exchanges can help to broaden perspectives and show that there are other successful ways of living! Women get inspired and motivated when they see other women like them articulate and be vocal about issues they seek solutions to. This effect encouraged us to intensify the exchange efforts.
Strengthening emerging cooperative societies in Ahmedabad
In March 2023, we organized a community exchange to understand how to strengthen the emerging cooperative societies in Ahmedabad. This time, we were clear that more women from Ahmedabad needed to participate in the exchange, and thankfully, there indeed were more women from Ahmedabad than last time.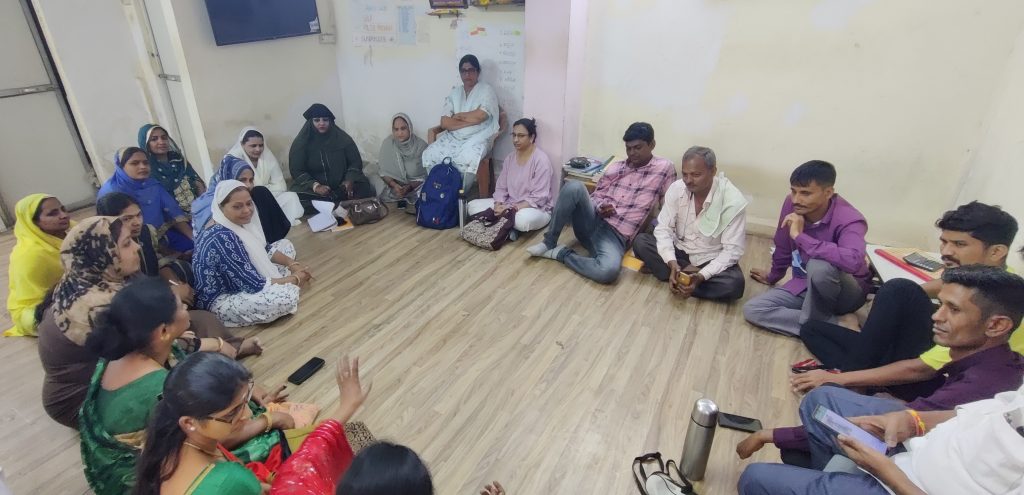 During the three-day exchange visit, members from the Ahmedabad slum relocation colonies visited the Mahila Milan in Mumbai. They revised their understanding on the role of community savings as a mode of organizing people and the myriad other ways in which the slum communities in Mumbai federated themselves. They also spent time speaking to members of a cooperative society of a slum relocation colony, seeing for themselves how their society was formed and how it maintains records of its roles, responsibilities, and activities. The main learning was that it was essential to maintain good documentation to be able to seek legitimate negotiations with the Government actors.
What exchanges of this nature do for a community in fostering a sense of collective action can be surmised by the words of Shrafat Hussain (name changed), one of the attendees from Ahmedabad:
"What we saw in Mumbai, and from what I heard from the others… I want our site to set a similar example for the societies and relocation sites in Ahmedabad. The next exchange should use us as an example of what is possible".
Image credits: SPARC