Md Sohrab Hossen discusses his changing perceptions of people who live in informal settlements in Bangladesh, and how working with ARISE has helped him address and unpack the many stereotypes people have about the urban poor.
Bostir polapan [slum children] is slang used by local people in urban areas of Bangladesh, particularly in Dhaka. It is a derogatory term for those wearing cheap clothing, or perceived to be behaving in ways that are "un-gentlemanly". Generally, people have negative perceptions about the poor. There is a common perception that poor people are dishonest and are more likely to take part in illegal activity due to financial difficulties, as well as limited access to education and work. A study of Americans shows that a quarter of the population believe that the poor have lower moral values than other Americans. Similarly, in Bangladesh we have a negative perception of poor people, worsening when it comes to those living in urban settlements. I used to hold some of these same views, however working with ARISE Bangladesh in informal urban settlements for the last three months, I have realized that residents of informal settlements are not as I had previously thought.
I grew up in a small town of Barishal City of Bangladesh where there are no informal settlements. I first came across an informal settlement when I came to Dhaka in 2007 when I was in grade five. I stayed at my uncle's house in Khilagaon Railway Colony. I saw many people living scattered around the railway land. Their houses were built with bamboo and jute sacks. People around that place called them bostir lok [slum dwellers].
People I met had negative perceptions about the settlers, and I absorbed these. Observing their way of life and my own preconceived notions about them led me to believe that these people were all beggars with nothing to their name. I was frightened to talk to them as they frequently had quarrels among themselves and used lots of swear words when they fought. I assumed they were illiterate, rough, and landless. People having no other identity than that of being slum dwellers. People without homes and without relatives. I also assumed their professions: the men all porters, the women all maidservants, and the children pickpocketing street urchins.
However, my preconceived ideas about people who live in slums, their lifestyle, the nature of their employment, etc. has significantly changed while working with the ARISE project in Bangladesh, after joining BRAC James P Grant School of Public Health back in September 2022. I have worked in two informal settlements (Kallyanpur, Dhaka and Greenland, Khulna) in Bangladesh, applying community-based participatory research methods, working closely with the people living in informal urban settlements. To ensure community participation at all stages of the research process, we recruited co-researchers from the local community, and Field Research Assistants from the study sites.
My idea about the residents of these settlements really began to change while working with them as I had the opportunity to listen to them closely, especially when I came to know about their education and how they contribute to the community. In each informal settlement, we conducted group sessions with marginalised people. While doing these activities, I got a very in-depth understanding of the residents of these communities – how they talk and behave, their education status, the kind of their housing they live in, the social services they're receiving, and how they support each other and contribute to the development of their communities.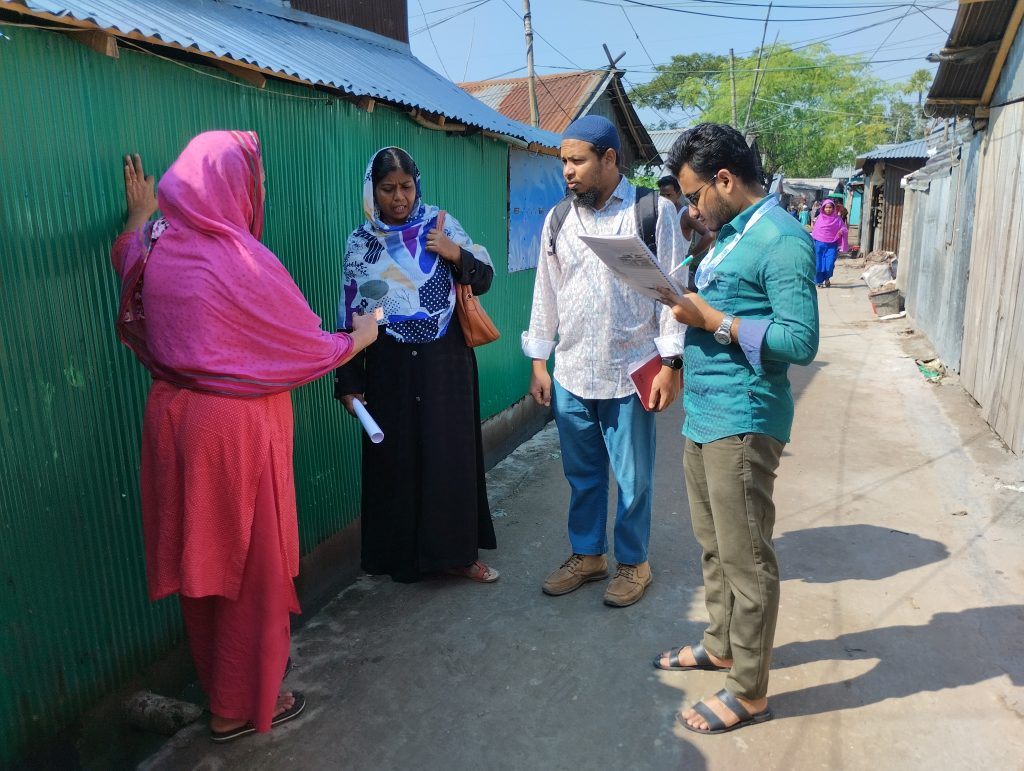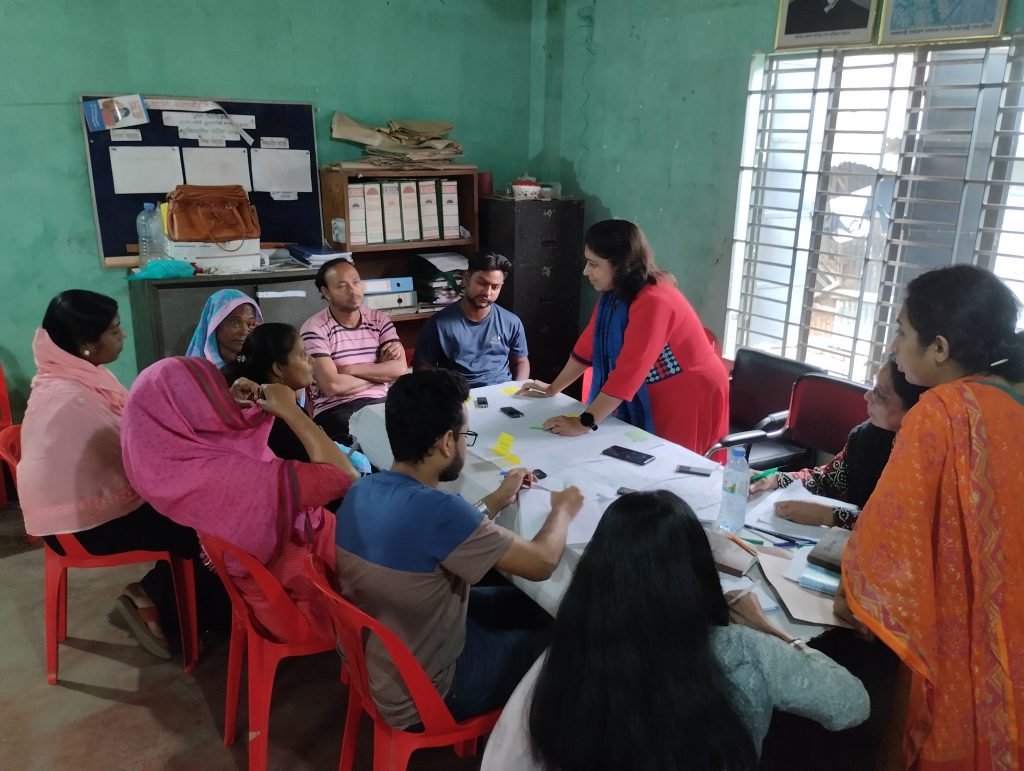 While working with the ARISE Bangladesh team in the different informal settlements, I realised that these people are not landless by birth, as I used to think. Some are climate migrants who lost their homes or land due to disasters induced by climate change, while others are people whose land has been occupied illegally in their villages, or who came to look for work in the urban area.
Another misconception I held was that the majority of the houses would be built of bamboo and jute sack. However, when I visited the settlements, I found that their houses were mostly made of wood and corrugated tin, and some were tin-shed buildings. Not everyone who lived in these informal settlements were renting them; some were landlords.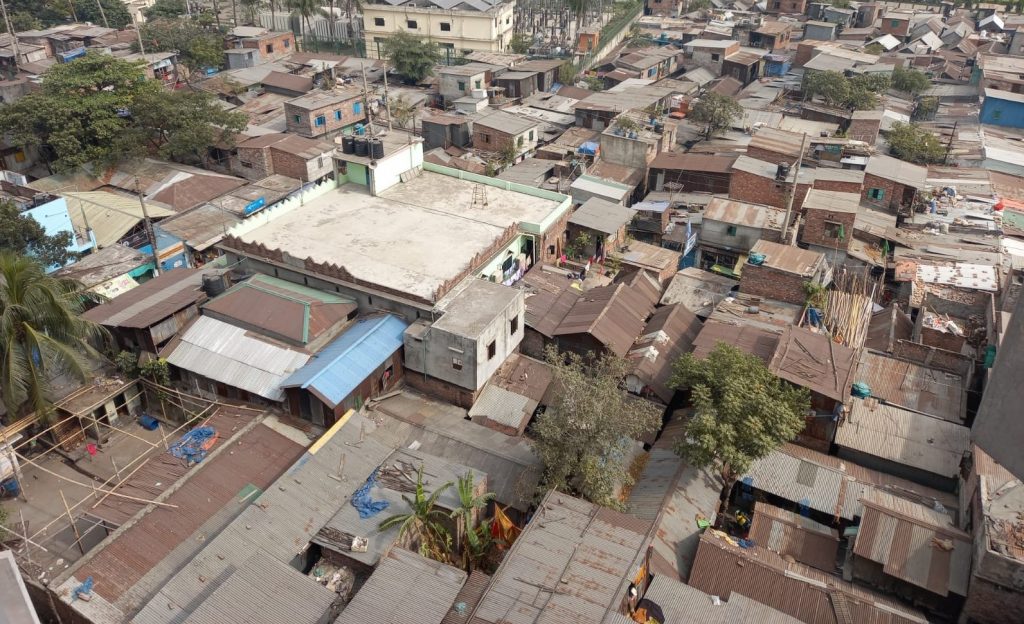 I used to imagine that all these people were orphans, without family. That they did have the same family and social networks as people like me. However, my idea was completely wrong. While visiting these settlements I have seen that many of these settlers have been living here for generations, and some have migrated here because they have family in the area. They have social lives, marriage ceremonies and funerals, just as we do. When a dispute among them arises, they jointly try to solve them, and they have arbitration systems, overseen by senior citizens and community leaders.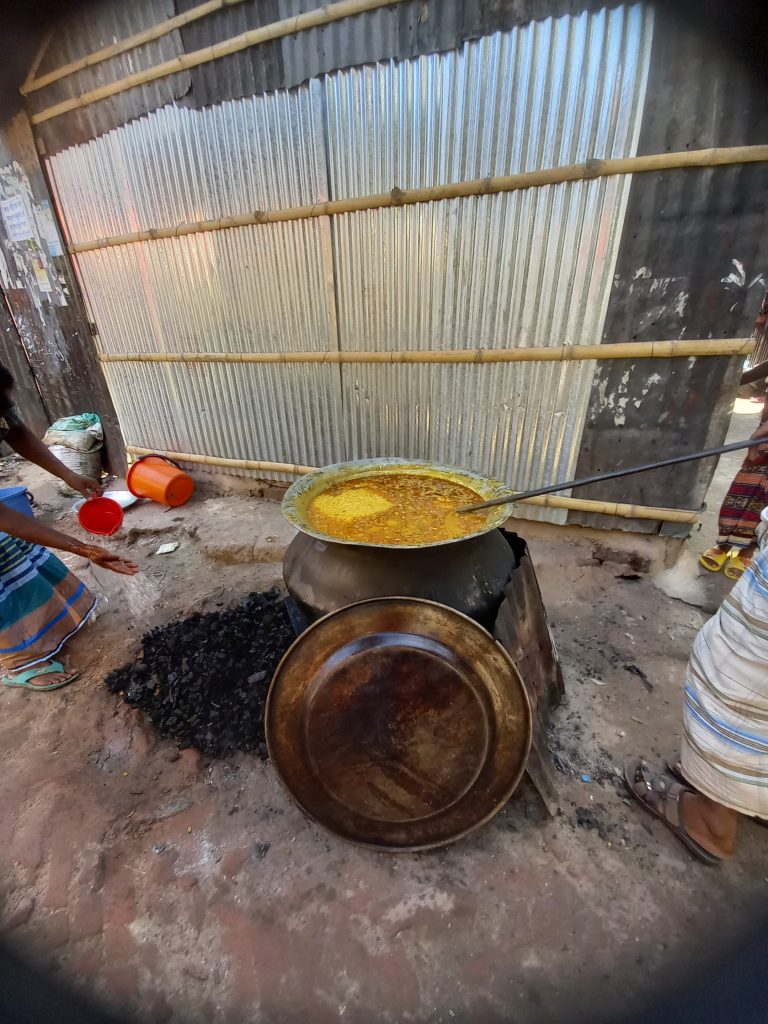 In terms of education, there are higher levels of literacy than I had expected. Parents make sure they send their children to school. I have met people who have obtained master's degree and wish to change their own lives and that of their families. However, the dropout rate is high among settlement residents due to a lack of financial stability. In terms of employment, the children of these informal settlers are not street urchins or pick-pocketers. They are school-going children, and many teens are involved with different NGOs for the social development of their community. For example, they work as Field Research Assistants and co-researchers with us on the ARISE project or volunteer as youth activists.
However, men still primarily work low-paid, labour-intensive work in the informal sector or run small businesses. But women are not purely employed as maid servants as I once believed. Many women are the head of their households and are employed in the garment sector; some are entrepreneurs. However, employment options for women are limited to only these sectors: garment work, domestic service, and manual labour. Furthermore, these women tend to be excluded from jobs in the transport sector, service industry, retail sector and skilled labour. These women have a strong connection with development organisations and NGOs, irrespective of their employment or marginality. They play a vital role in deciding what will be done in these settlements. They are aware of the impact of early marriage and drug addiction and vehemently oppose them. They know how to voice their opinions during courtyard meetings hosted by various NGOs.
The rights of people living in informal urban settlements in Bangladesh are neither recognised nor protected, which poses a significant risk for residents and a challenge for NGOs, donor agencies, and even some government officials working in informal settlements. As my previous conceptions about the urban poor were proved wrong in many instances, it makes me happy knowing that these communities are very self-reliant and always adapting to the changes around them. However, one thing has been incessant: they need a permanent place to reside. They all live with a fear of eviction, that their homes might be bulldozed at any time. They might need to drop the lives they have built all these years and start all over again.
There are many people around us who might have these same gross misconceptions I had where slum dwellers are reduced to having only one identity, that they live in the slums. This might deter them from knowing more about the people from these communities. A child might grow up thinking of them the same way I did in my childhood. The implications of such negative mindsets among children can have negative consequences. For example, when children hold a negative mindset about this community, how they would treat their classmates in schools who are from this community? Or when the children who live in informal settlements realise that they are constantly subjected to derogatory stereotypes such as being perceived as dishonest, unsociable, and uneducated, what will be their reaction to the richest class in the country or his rich friends in school?
So, there is more to the urban poor than being seen as is being treated as a rogue, dishonest, unsocial, and illiterate and it is on us to unpack these stereotypes and bust these myths.
This blog was edited by Adrita Rahman and Hayley Stewart.